Fold. Snap! Squeeze.
The NEW WAY to Open Packs!
The only one‑hand opening and dispensing portion pack for liquid and semi‑liquid products
One Handed, NO mess, NO spills.
Fold the pack in half with just one hand, snap open the sachet, and squeeze out the contents.

Great for Any Application
Syrups

Honey

Extra Virgin Olive Oil

Balsamic Vinegar

Fruit Juices

Coconut Oil

Pepper Sauce

Agave Syrup

Ketchup

Mayonnaise

Salad Dressing

Jams

Spread Cheese

Mustard
Tea Concentrates

Spirits

Juice
Coffee Syrup
Slushy Syrup
Soda Syrup
Smoothie Syrup
Shaved Ice Syrup
Face Masks

Makeup Remover

Creams

Body Lotion

Toothpaste

Hand Sanitizer

Sun Creams

Moisturizer

Hair Conditioner

Eye Moisturizers

Mouthwashes

Hotel Amenities
Energy Gels
Tea Concentrates
Liquid Vitamins
Vape Oil
Cream
Gel
Pain Cream
Energy Gels

Creams

Baby Care Products
The Perfect Size for Your Product
Seven standard sizes from 0.5mL to 30mL. Sachet size is based on the volume of your product.

Construction & Design Services
Send us your product and we will manage the entire process from the graphical artwork to the secondary packaging.
Design the whole surface of an Easysnap® Pack with our help, including both the front and back of the sachet with your visual identity or your communication

Expand the visibility and promotion of your brand with greater opportunities using this new innovative way of packaging
Packaging Applications
Synchpack Provides a Complete Range of Easysnap® Packaging Applications
Replace conventional portion pack containers, including small cups, small bottles, and tubes from 1 to 30 mL

Fill with any liquid or semi-liquid product

Share as a giveaway for sampling

Sell retail as a single unit or neatly stacked in retail-ready cartons, travel packs, or displays.
With our volume pricing, we can work with all budgets.
Depending on your products specific testing requirements and shelf-life needs, we can manufacture Easysnap® packaging for every budget. With our 17+ years of experience in manufacturing, your product and company will benefit in many ways:
100 Synchpack Hand Sanitizer Snaps for $21.
The RLG Hand Sanitizer contains 80% Alcohol and helps reduce bacteria that potentially can cause disease. For use when soap & water are not available.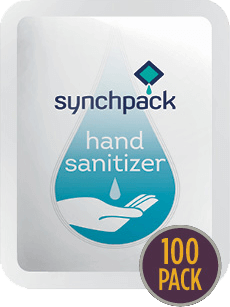 About Synchpack
Synchpack is a full‑service packaging manufacturer providing our customers with innovative design services, contract packaging, and logistics solutions for food & beverage and consumer product companies in North America. Synchpack is the North American agent for the globally patented Easysnap® technology. We offer complete co-packing services for food, cosmetic, OTC, and pharmaceutical products. All our facilities are third party audited, ensuring excellence of process and standards for single dose units.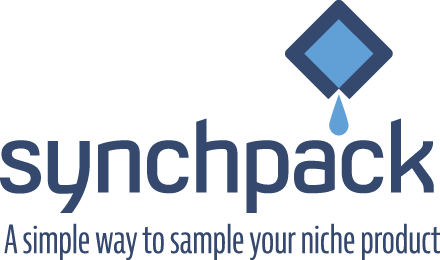 9060 Zachary Lane North , Suite 104
Maple Grove. MN 55369
Phone: (763) 493-7753
*EasySnap is a trademark property by Easysnap Technology